Shoulder pain is an all too common problem among many people. A variety of reasons can cause it, but we often see patients suffering from shoulder pain due to overuse or injuries. Regardless of the cause, shoulder pain can significantly impact your quality of life and needs to be addressed as soon as possible with the help of a qualified health care provider. If you are suffering from shoulder pain in or around the Irvine area, Dr. Gary Martin, our highly-qualified chiropractor, can provide you the professional testing and treatment you need for natural relief.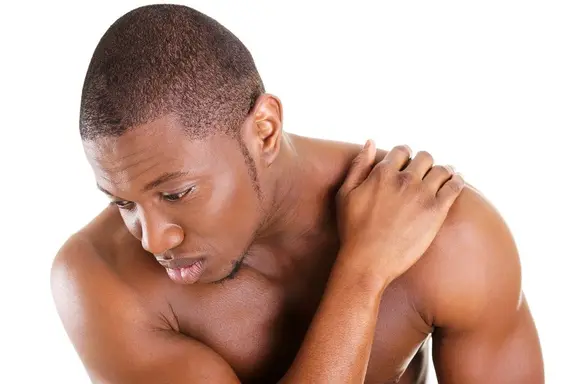 Causes of Shoulder Pain
Most cases of acute pain in the shoulder are caused by minor injuries such as dislocation, sprains, or strains. On the other hand, prolonged shoulder pain can also be a sign of an underlying medical condition. These conditions include osteoarthritis, rheumatoid arthritis, and adhesive capsulitis (frozen shoulder). There are also many other possible causes of shoulder pain. These include:
A fracture or broken bone in the shoulder
An infection at the site of the pain such as bursitis or an inflamed tendon
Rotator cuff tears or injury
Delayed onset muscle soreness, which can be brought on by exercise or overuse in the shoulder area
How to Relieve Shoulder Pain
There are many natural methods you can use to relieve your shoulder pain at home. However, if your pain is chronic or debilitating, it's crucial that you seek out medical attention from our medical professional right away. The most important thing you can do to relieve shoulder pain is to rest your shoulder in a comfortable position that supports it. If necessary, use the help of a sling or brace to support your shoulder as it heals.
We often recommend icing the area for 20 minutes three times per day to alleviate pain and swelling. A heating pad can also come in handy to relieve pain and improve blood flow. Make sure you continue with any rehabilitation exercises prescribed by our chiropractor to reduce joint pain and stiffness in the shoulder area.
Chiropractic Care for Shoulder Pain Relief
Chiropractic care is a non-invasive treatment method that has been proven to help naturally alleviate shoulder pain. Our chiropractor will diagnose the root cause of your shoulder pain and create a treatment plan that's personalized for your recovery needs. In addition, regular chiropractic care will also reduce the likelihood of future shoulder-related injuries.
Visit Dr. Gary Martin in Irvine for Shoulder Pain Diagnosis and Treatment
If you live in Irvine or the surrounding areas, you can make an appointment with Dr. Martin for effective shoulder pain relief. Dr. Martin is a trusted chiropractor who's dedicated to helping others achieve optimal health and well-being. He has many years of experience providing patients with the help they need to manage or alleviate various health-related issues, including shoulder pain. Call (949) 559-7999 to schedule your first consultation today.