Services Provided at Dr. Gary Martin's, Irvine Chiropractic Office
Dr. Gary Martin's Irvine Chiropractic office is a healthcare center dedicated to bringing clients the highest quality of care possible. In order to accomplish this goal, the center's staff has been trained to provide a variety of services that will cover all sorts of musculoskeletal conditions. Below are just some of the chiropractic services offered at the Dr. Gary Martin's office.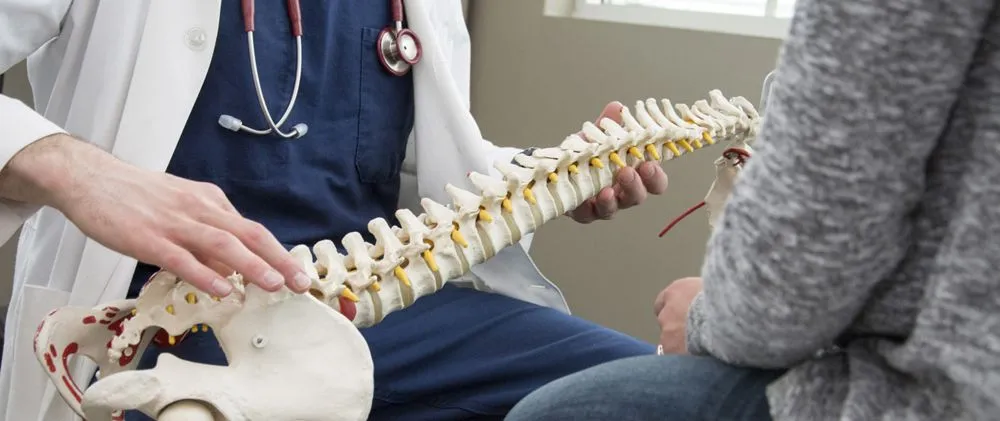 The most common therapeutic procedure performed by Dr. Martin are chiropractic spinal adjustments. The objective of a spinal adjustment is the use of the hands to re-establish normal joint mobility, and remove nerve irritation. A chiropractic adjustment is a highly controlled procedure that rarely causes discomfort. In fact, getting adjusted is often a pleasurable experience and most patients note positive changes in their symptoms immediately following an adjustment. Fine-tuning misaligned vertebrae with chiropractic adjustments restores proper spinal mobility. This alleviates pain and muscle tension, and allows the surrounding tissues to heal properly.
Dr. Martin is very skilled with performing a variety of gentle and effective adjusting techniques that are specific to the needs of each patient. Chiropractic methods we offer include manual adjustments using the Diversified or Palmer Technique, Thompson (Drop Table), Activator, Flexion-Distraction (Cox table) and the Webster Technique. Diversified is the most common chiropractic technique in the world that uses a variety of different techniques to manually adjust and realign the spine. Activator technique uses a small device to deliver precise adjustments in areas that are difficult to reach with precision manually. Thompson or drop table uses a special table that allows us to position the body so that gravity aids in the adjustment. This can bring about faster healing from injuries. The Webster Technique is a prenatal type of care that correctly positions the pregnant mom's pelvis for a healthy delivery while relieving back pain.
Massage therapy relaxes tight muscles and helps relieve muscle pain. Massage helps the body flush out toxins, which speeds tissue repair and aids in healing the body. It improves range of motion, increases blood circulation and lymph flow, helps with recovery from accidents and sports injuries, and boosts your immune system. Massage therapy works extremely well in tandem with your chiropractic adjustments. All of Dr. Martin's massage therapists are highly trained and have over 10 years or more experience with therapeutic massage in the clinical setting.
Laser therapy is the use of specific wavelengths of concentrated light (red and near-infrared) to create positive therapeutic effects. For decades, laser therapy has been proven to stimulate tissue repair and growth. Our state of the art Class IV K-Laser accelerates the healing process and decreases pain, inflammation and scar tissue formation. It improves blood flow and lymphatic function, and enhances nerve function. What makes our cold laser special is that it's completely noninvasive and has no undesirable side effects whatsoever. Our aim is to eliminate the cause of your pain and cold laser treatment is an effective tool to reach that goal.
Rapid Release Therapy is high speed vibration therapy that delivers immediate results. It relaxes muscles, speeds recovery, targets problem areas quickly and effectively. It is fast, painless and lasting. Our patients love the effective, relaxing treatments. We can get you fast relief to soft tissue problems affecting nerves, muscles, tendons, and ligaments.
Dr. Martin provides specific recommendations on nutritional supplements and healthy food choices to enhance his patients' return to optimal health. He does nutritional response testing (kinesiology) to determine if you show any signs of nutritional deficiencies. If so, he may recommend a specific protocol of Standard Process whole food complexes designed just for you, based on your specific nutritional needs and health issues. Dr. Martin periodically re-tests to assess if your body is functioning better, then alters the nutritional protocol. With these approaches, he finds that his patients respond better, faster, and achieve better overall health than those who only receive chiropractic care.
Dr. Martin also offers a 21 day detoxification / cleanse program using organic whole food supplements through Standard Process.
If you are interested in learning more about Standard Process whole food complexes, please visit www.StandardProcess.com for information regarding the various products we offer.
We teach our patients special "blueprint" exercises to help strengthen and correct their own unique problem. These exercises can be performed in the comfort of your own home and can improve the effectiveness of your spinal correction. In addition to skeletal misalignment, muscles and connective tissues can be out of place or strained by improper alignment and use. Specific exercises and stretches can help your body stay in balance and in health.
We often find it helpful to "coach" our patients on certain activities they should avoid or do differently to avoid aggravating their particular health challenge. Our goal is to help every patient achieve a fulfilling and happy lifestyle full of the activities they enjoy most.
We recognize that each our patient is a whole person, and help them reach true health and wellness is a collaborate effort between our professionals and our patients.
Some healthy lifestyle coaching includes:
Wellness Chiropractic Care
Nutritional Wellness Plans
Stretching and exercise routines
Creating optimal ergonomics for working at home office
Contact Us Today
Interested in one of our services? Let us know by giving the practice a call at (949) 559-7999. We will be happy to answer any questions you have. Change your life for the better by setting up an appointment with us right away. To learn more, or to schedule an appointment, contact us at Dr. Gary Martin, Irvine Chiropractor, in Irvine, CA at (949) 559-7999.